Jeff Gross – Professional Poker Player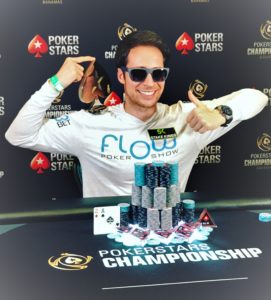 Having full, great looking hair was so important to Jeff Gross that he flew across the country to receive a hair transplant procedure from Dr. Robert Leonard. Jeff is a professional poker player with five World Series of Poker final tables and over $3.7 million in tournament winnings.  The demanding industry of professional poker requires him to spend a lot of time on camera and traveling the globe, making his appearance is paramount.
While in college at the University of South Carolina, Jeff's thinning hair was a joking matter, at that point in his life it was something he would just brush off. As time went on, he noticed a real issue with his hair loss, it was noticeably becoming thinner in the front. Rogaine was Jeff's first step in taking action, and good first step as Dr. Leonard does recommend it to many patients, often in conjunction with other remedies. However, in Jeff's case more needed to be done.
Dr. Leonard's name came up in conversation with a friend's father who had already received a hair transplant procedure from Dr. Leonard. His hair looked natural and he spoke very highly of Dr. Leonard and his list of high-profile patients.
After meeting with Dr. Leonard, Jeff felt completely comfortable with the idea of having a transplant and was excited to get back to his old locks. In March 2013, Jeff arrived at Dr. Leonard's office for his procedure. "It was overall a great experience; great care and clean facilities," said Jeff "I was really relaxed and I even got to watch TV during the procedure." Dr. Leonard performed a traditional strip transplant on Jeff to the central front area of his head. The overall process was seamless and convenient, and Jeff was up and running at a poker tournament just the next day.
"Being a professional poker player, I live a very social life and image is a big part of that. Hair is not one of those things you NEED, but it is very important, it's like dressing well," Jeff commented. "I am really looking forward to options of different hairstyles," he added.
Hair loss impacts 50 million men in the United States. It can affect a person's physical appearance and even their self esteem. If you or someone you know is faced with hair loss issues like Jeff, contact our team to schedule a free, confidential consultation. There are so many options out there and the results can really change your life, like they did for Jeff!