Kevin Chapman – Actor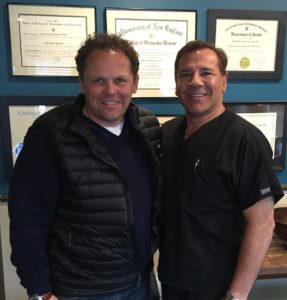 Originally hailing from Massachusetts, actor Kevin Chapman has been steadily working in the film and television industry for over 30 years, with regular appearances on "Person of Interest," as Detective Lionel Fusco, "Rescue Me," and "24," not to mention in movies including "Mystic River" and "Unstoppable." Though routinely recognized by fans, he felt it was time to update his off-screen image with Dr. Robert Leonard's help. Admitting Hollywood's special effects can perform great feats – "in my line of work, makeup can always (add hair)" – he decided it was time to enjoy the same benefits in his daily life that he received on the job by undergoing a hair transplant procedure.
Conceding he didn't begin with a favorable view of hair restoration treatments, Kevin "came here (to see Dr. Robert Leonard) with [a] kind of stigma in the back of [my] head… having grown up watching Frank Sinatra going through plugs." But Dr. Leonard is quick to point out how far technology has advanced since the first hair grafts. While grafts once contained 25 to 35 hairs each, today they may have as few as one. What's more, grafts are spaced as tightly as one millimeter. These advancements allow surgeons to precisely place the grafts for a more natural result even after a single session.
Kevin underwent the procedure in May 2013, which took place at the Cranston location of Leonard Hair Transplant Associates. Using the Follicular Unit Excision (FUE) technique on the donor section, Dr. Leonard carefully extricated each follicular unit in a minimally invasive way. Once harvested, the grafts were relocated to thinning or bald regions where they should continue to grow naturally. Though his goals were personal rather than professional, Kevin was so satisfied with his results that he imagined there might be career benefits as well.
Dr. Leonard confirmed Kevin's excellent outcome. "Kevin was a great candidate for the FUE technique," he pointed out. "Now he is able to be confident on and off the set—no false hair needed!"
FUE is just one of several options available to our hair transplant patients. While male pattern baldness can be the source of extreme self-consciousness for many men, our surgeons offer customized treatment plans that can successfully restore what's been lost and rebuild confidence in his patients.
There's no need to for you or your loved ones to suffer from hair loss. Contact our team and schedule a free, confidential consultation to discover a hair restoration therapy that works for you. Call 1-800-GET-HAIR or contact us via e-mail today.