Sean Kuraly – Columbus Blue Jackets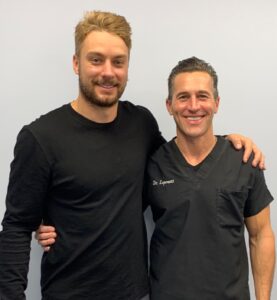 They say hair is a big deal to hockey players, who often grow out their flowing locks and scraggly beards during The Stanley Cup Playoffs. In this often physical and fast-paced sport, former Boston Bruins forward Sean Kuraly couldn't agree more.
The 27-year old NHL player has enjoyed a full head of hair for as long as he can remember. "As a kid, I had a lot of hair and was always begging for a buzz cut, but wound up with a spiked-in-the-front look that I rocked for most of my childhood," Kuraly joked. In fact, Sean said he never really thought twice about his hair until he recently saw photos from a few years earlier. "I was looking at photos from my early 20s and I noticed a big difference in my hairline…it was definitely receding and I was surprised because I hadn't realized it until I saw those photos."
In fact, by the time most people realize they're losing their hair, more than 50% of it could have already fallen out according to Dr. Matthew Lopresti. "We have an image of ourselves in our minds and because we look at our reflections every day, most of us don't notice a change in our hair density or hairline until it has significantly changed," said Lopresti.
It wasn't long after Sean saw the photos that he knew he wanted to address his thinning hair and chose to visit Leonard Hair Transplant Associates. "The practice has a great reputation around the city. Everyone who I know that has gone there has been super happy with the results," said Kuraly who recently sat down with Dr. Lopresti for his initial consultation. "Dr. Lopresti is an incredibly personable and likeable guy. He was so easy to talk to and I really pressed him with some hard questions and the results that I could expect depending on the treatment I chose…I was really comfortable after my consultation and satisfied that I was making the right choice," continued Kuraly.
Because of Sean's desire for a short recovery process with little-to-no downtime, Dr. Lopresti recommended Platelet Rich Plasma Therapy (PRP), to thicken Sean's hair and stabilize his hair loss. He had his first of three PRP treatments in October. "PRP was unlike anything I'd ever done; I've never had what would be considered a cosmetic procedure before," said Kuraly. "It was pretty easy, minus the pinching from the anesthetic. Once we got my head numb, it didn't take a lot of time, was easy and not too invasive."
"Sean did well at his first PRP treatment. He was a little nervous because like most patients, there is some apprehension the first time coming in for treatment," said Lopresti. "But, once we started, he quickly relaxed and everything went exactly as planned. I think Sean is going to have excellent results."
After PRP and in the days following, Sean reported no signs of discomfort or downtime. "Initially, I was a little sore, I could tell that I had something done, but the discomfort was very minimal. It feels like when you leave a dentist appointment and your mouth is a little numb – it was similar, but on your scalp. By the next day and certainly within 48-hours, I felt completely fine and was right back to my normal routine," said Kuraly.
Sean is already talking up the procedure in the locker room. "I couldn't wait to tell my teammates; I was bragging about it actually," laughed Kuraly. "I've already had a number of the guys ask to go in for a consultation. A lot of men have an issue with losing their hair and to some guys, I'm the first person they know who is doing something about it. Hair loss is not something to worry about…as technology progresses, we can really benefit from some of the new techniques and procedures."
"Sean will receive two more PRP treatments in the coming months," said Dr. Lopresti. "I think he's really going to be satisfied with the results of his treatment."
"I'm already super pleased with my experience and am looking forward to my next visit. I know I'm in good hands and can't wait to see how things progress as the weeks and months pass by!" concluded Kuraly.